On Easter, we usually invite people over for the meal after our church service. Considering all that Christ accomplished for us, it's a good day to be with the body of Christ. I didn't count, but I'm sure we had at least 20. It was busy and fun.
Outside of dessert, I think the favored dish was Spinach Pie, or Spanakopita. Even people who don't like to eat their veggies might like this dish! It's a classic Greek food and not hard to make. I was able to make it the day before and then reheat it just before we ate. I hope you enjoy it too.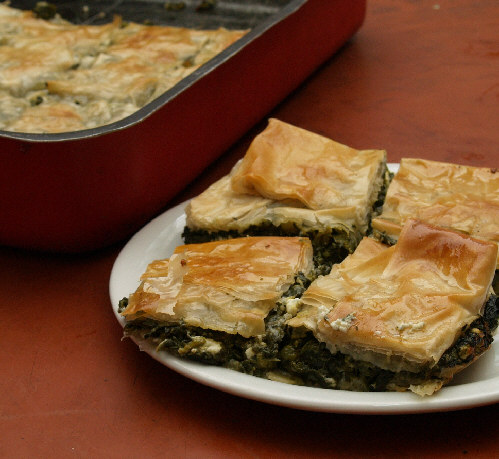 Spinach and Feta Pie
(Lund's and Byerly's
Real Food
, Winter 2009)
2 Tbsp olive oil
2 C chopped onion (2 med-size onions)
3 10-ounce packages frozen chopped spinach thawed and well drained
4 large eggs
8 ounces feta cheese, crumbled
1/2 C (2 ounces) shredded Parmesan cheese
1/3 C toasted pine nuts (*see note) [or walnuts]
1 1/2 tsp salt
6 Tbsp butter, melted
8 sheets phyllo dough, thawed
Place a rack in center of the oven and preheat to 375 degrees F.
Heat olive oil in a large skillet over medium heat. Add onion and cook, stirring, until soft, 3-4 minutes. Spoon cooked onion into a large mixing bowl. Add spinach, eggs, feta and Parmesan cheese, pine nuts, and salt. Season with pepper to taste.
Brush a 9-inch glass pie plate with some of the melted butter. Place a sheet of phyllo dough in a pie plate, letting ends overlap side. Brush phyllo with some of the butter. Repeat with 5 more sheets of phyllo, then spoon spinach filling in center of pie plate. Pull edges of phyllo up over filling to almost cover it. Place 1 of the remaining 2 sheets of phyllo on top and brush it with some of the butter. Cover with remaining sheet of phyllo, tucking ends under to form a round. Brush phyllo with remaining butter.
Bake pie until browned all over, 50-55 minutes. Let pie cool for about 20 minutes before slicing.
*Note: To toast pine nuts scatter in a single layer on a rimmed baking sheet and bake at 350 degrees F until golden brown, 5-7 minutes. Shake baking sheet once or twice as pine nuts toast to prevent them from burning.
Note: If you make the pie ahead of time, simply reheat in a 350 degree oven for 5 minutes to crisp the top.
May God bless you with the blessings of the Resurrection. The Lord is risen indeed!!