Lycopene comes from tomatoes and some other red vegetables. It is what gives the red color. It is considered an antioxidant and numerous studies indicate that it helps the body fight against cancer.
An article from the Mayo Clinic reports studies on lycopene as treatment for cancer are inconclusive because the studies were done using tomatoes which also contain vitamin C and other nutrients as well. They're saying that it's not certain that lycopene, taken from its natural environment and used as a medicine for cancer, would produce the same results.
My suggestion, therefore, is to use lycopene the way God intended when He created it in its natural form, combined with all those other wonderful nutrients in tomatoes, red peppers, etc.
Here's a new recipe I made for Easter dinner to accompany brisket, asparagus and salad. It's a great soup to serve warm or cold and is chocked full of lycopene in its natural environment of others nutrients.
Roasted Red Pepper and Tomato Soup with Orange, Black Olive, and Orange "Salsa"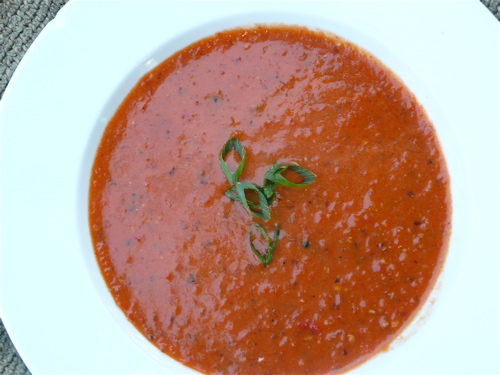 Recipe from
Lunds and Byerly's Real Food
, Spring 2012
Makes 4 servings
2 Tbsp olive oil
1 C chopped onion
1 strip orange zest (3in by 1/2 in)
2 cloves chapped garlic
1 12-ounce jar roasted red peppers, drained, rinsed, cut into 1-inch pieces
1 14.5-ounce can diced tomatoes
2 med. leaves basil, coarsely chopped
1/2 tsp coarse salt, or more to taste
1/8 tsp freshly ground black pepper, or more to taste
3 C water (or half water and half chicken or vegetable broth)
Garnish
8 pitted Kalamata olives
1 strip orange zest (2-inches by 1/2 inch)
1 leaf basil
1. Heat oil in a saucepan until hot enough to sizzle a piece of onion. Add onion and orange zest. Cook, stirring, until golden, about 8 minutes. Add garlic and cook, stirring, 1 minute.
2. Add red peppers, tomatoes, basil, salt and pepper and cook, stirring, 2 minutes. Add water and heat to boiling. Reduce heat and cook, covered, over medium-low heat, 5 minutes. Cool slightly.
3. Ladle soup (include orange zest and basil leaves) into a blender, working in batches if necessary, and puree until smooth. If preferred, puree with an immersion blender in saucepan. Season to taste. Keep warm over low heat.
4. Garnish: Gather olives, orange zest, and basil in a pile and chop finely until blended.
5. Ladle hot soup into bowls and sprinkle each with a tablespoonful of garnish before serving.
It's light, fresh and makes your mouth come alive.
Also try it cold, just allow to cool in refrigerator before serving. Yum.